Two of my favorite things in the world. Funny pair, those two things. But each very meaningful to me.
We grew up in the country. Not on a farm. Let me say that again. I did NOT - repeat, NOT - live on a farm. We had no barns, we had no cows, we grew no corn other than what was in our garden. We lived BY cornfields, and the farmer down the road kept his cows pastured across the gravel road from our house, but we, ourselves, did NOT live on a farm. Seriously. There's a difference. But I digress...
Growing up, lilacs were plentiful on the land north of ours. Lovingly referred to as "Up North", it was (and is) owned by my grandmother, and we picked our fill of lilac blooms every spring, and the house smelled divine until the last one had wilted. That smell, to this day, reminds me of home, of childhood fond memories, and makes me smile. Today I picked lilacs from my own lilac tree, in the corner of my yard here in the city - far away from the country, and yet taken there in a moment with eyes closed, as I inhale and enjoy what truly smells like "spring at home" to me.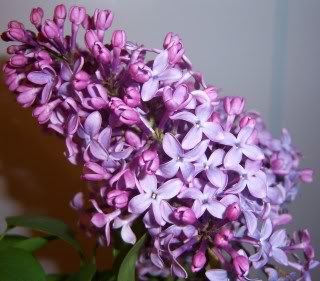 Speaking of home, we were blessed with a trip out to the old place yesterday, stopping by to wish Dad a happy 60th birthday and share some cake (of which I had none, by the way, thankyouverymuch). We visited with Dad a while. And then, taking her small hand in mine, my sweet Samantha and I walked together, for the first time, on the very ground where I once walked. With Daddy and Jackson following, each of us fascinated and enraptured by different aspects of the woods before us, we climbed and hiked, over and under, around and through. I was not much older than she is now when I started out on my own journeys in these very woods.
To take her there and see her love them as I love them touched my heart in a deep and profound way.
And as has always been the way by Mother's Day in the country, the hunt was on. The morels were out there, and waiting for us. Veteran sponge mushroom hunters such as myself can almost smell them. You just have to see one, and then they start to pop out at you, once you find your spot.
We needed a few more days of about 10 more degrees, even though it's been wet enough. Even so, we found them - just a dozen or so, spread out through the wood in no particular pattern or following of rule, and there was certainly more hiking than picking. But we found enough to feel successful. Samantha beamed as she spotted the very first one, and shrieked "MOMMY! I see one!!!" And so she did. She is my daughter, after all*. Daddy is quite the mushroom spotter himself...for a city boy.
And so tonight we dined on what many consider a delicacy, breaded in a secret family recipe breading (substituting whole wheat flour, obviously) - the morel, the sponge mushroom. And they were good. Really, really good. In fact, we didn't eat much else for supper.
*Yes, I fancy myself a fairly advanced and skilled sponge mushroom hunter. You know what the grocery stores pay for these things? OK, fine, it's not rocket science, but it still requires some degree of knowledge, much patience, a sharp eye, and a sharp paring knife. Not everyone even remembers to bring one - my cousins were up there too, and they had to borrow one. Cuz I had two. I'm an expert like that. Shut up. Just let it go, alright?